You may have heard of Commission Hero after an afternoon of scrolling through your browser. Trying to find more information about affiliate marketing, you came across this program.
It says that this program is the brainchild of established affiliate marketer Robby Blanchard. It looks promising, and some people have said great things about it.
Other people would have clicked the link and signed up for the program – but not you.
You have been burned before, left traumatized by a scam that you fell for so quickly. You don't want it to happen again. Well, you have come to the right place, as today in this Commission Hero Review, we are here to give you a complete dissection of what the program is about.
Read on, and you will find out what Commission Hero Pro is. You will know its pros and cons, potential rivals, and our overall analysis about whether you should go for it or not.
What Is Commission Hero?
From its very name, Commission Hero signals that it is a program interested in helping you earn online. True enough, this online course by Robby Blanchard provides you with knowledge of making money through affiliate marketing.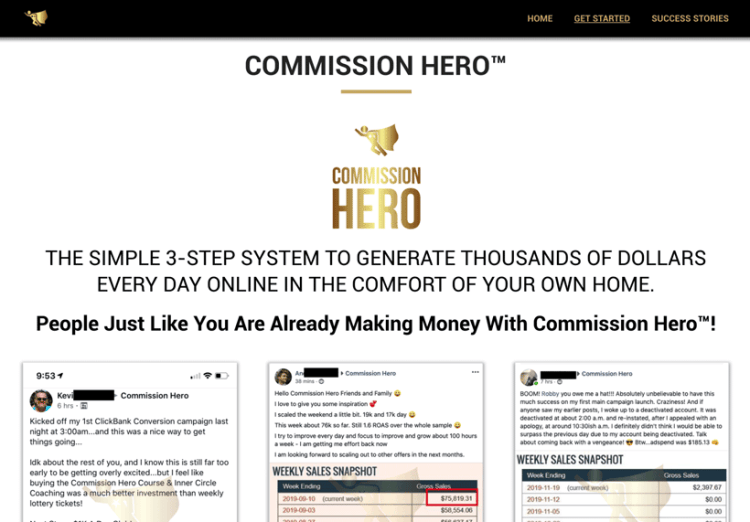 So, if you want to earn money online without putting in so much time and investment up front, you want to go for Commission Hero. As with any other affiliate marketing program, the beginning may be time-consuming. You need to establish a few things. The good news is that Commission Hero is a one-stop place to help you achieve your goals.
At first, you may worry about what seems like extreme claims. Commission Hero claims that you can earn as much as $1000 daily. However, some users have confirmed that this is possible.
Read on to see if this program is for you.
Who Is The Creator Of Commission Hero?
Robby Blanchard is the creator of Commission Hero.
Who is Robby Blanchard?
You may have heard of Robby Blanchard's name in association with Commission Hero.
But who is he?
The creator of Commission Hero is the CEO of Blanchard Media. He has some high-profile clients, including Paleo Secret, Fit Body Bootcamp, and Jason Capital International.
What does he do for his clients? Well, he provides private consulting, coaching, and campaign management. So, he is well-versed in providing advice.
However, you may be surprised to find out that he started with an MBA and owned his gym. He was not always with online marketing. However, he realized the importance of promoting his business with Facebook ads and affiliate marketing.
So, the strategies he has set to teach you are things that he has tried and proven. Robby said that he even earned $10000 a week through the affiliate marketing deal he had with Clickbank to promote his fitness program. He even became Clickbank's top affiliate in 2019.
Does Robby Blanchard Deliver?
Because Robby Blanchard has personal experience in affiliate marketing, he delivers. He provides online marketing strategies he has tried and tested.
Commission Hero users have felt the effects of being tutored by someone who has gone through all the processes before them.
But what is the process?
The 3-Step Process For Affiliate Success With Commission Hero
Commission Hero Step 1: Pick an Offer to Promote
The first step is to find an offer you want to promote.
Look for what various affiliate networks are offering. Find a niche that you can associate yourself with. You will find yourself better able to defend a niche that you like. For example, Blanchard chose fitness.
The good news is that even with the pandemic upon us, there are still plenty of niches to choose from. However, some may stand out better.
An example is health & fitness, which Blanchard himself has chosen for himself.
The niche finds itself thriving, with more people seeking information on health, fitness, and general well-being.
It does not end there, though. You can find other niches that perform well, such as parenting and DIY. These are fields that will continue to have a following.
Online money making, as we have proven ourselves, is also a great niche to choose. People want to know how to earn money online, especially since a lot of our work has shifted to the virtual setup. It is also easy to get free traffic when you offer passive income to your target audience.
Interestingly, gardening is another lucrative niche to offer. These days, people are more bent on producing their own fruits and vegetables.
Commission Hero Step 2: Build your Landing Page
To make your affiliate marketing efforts work, you should first have a landing page.
Your landing page should look professional. After all, it is the first thing that your target audience will see.
One of the best things about this program is that Commission Hero provides great ready-made landing pages templates to copy-paste. It does not matter what language you use or if it is your first time to make one. Commission Hero will provide you with all the information you need to earn your affiliate commission with little problem.
The Commission Hero program will guide you every step of the way. It will even assist you in understanding little but crucial things like adding images to your site's front page. The program will assist you with your copywriting. The right words can help you entice more people to buy your affiliate product.
Commission Hero Step 3: Build your Facebook Ads
Now you have got your offer and landing page ready. So it's time to start the business, and you need the people/visitors.
Well, this is the 3rd step where Robby steps in again.
The Commission Hero System relies on the strength of Facebook ads to drive people to your landing page.
Commission Hero teaches you how to create a compelling Facebook advertising campaign in a very short time. The program can help you get it ready in just about two hours.
Be patient and go through the advice that Robby Blanchard's Commission Hero system is providing you. Buying it alone cannot help you. Go through the content that has been carefully created and organized to help you.
You should know how to take your new marketer role seriously. Your ad should not just be any other post on Facebook.
One, it should stand out. However, it should do better than just stand out and get a like or two. It should compel the viewer to click on your post and find out more.
The copy and the design should be made with the target audience in mind. This way, they will be immediately attracted to what you have to offer.
Join Limited Time Free Commission Hero Training
Commission Hero Training Modules
The Commission Hero program is in-depth. It provides you with several training modules that can help you navigate the affiliate network of your choice.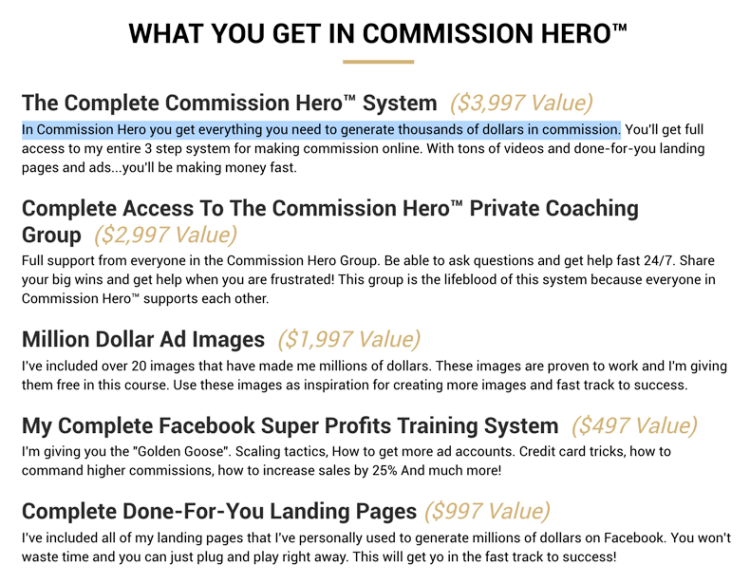 Commission Hero Module #1 – Getting Started
As the name suggests, this is where you get started. Module 1 serves as your first step towards making the most of Commission Hero.
It is where you will see Blanchard thanking you for buying his product. He also gives you a summary of what to expect. So, you know what you are going in for.
He talks about you choosing your offer and gives you an idea of getting around Clickbank (A Leading affiliate Network).
It is where you will know what niche Blanchard prefers most: health, fitness, and anything related.
Blanchard talks about picking the best image to use for your ad. He gives you tips that will help you boost your image. He also advises you to buy a professional image done through Fiverr, which is what he has done.
The introduction is not all fluff, either.
Blanchard already talks about using Clickfunnels to create your first landing page and add your images. He even provides information on how to set up your domain and to publish your landing page – and well, the rest of your website.
The best thing about the introduction is that it draws you in because of Blanchard's ability to describe the technical aspects simply.
Commission Hero Module #2 – Choosing the Right Offers
Robby Blanchard will remind you of the importance of choosing the right offer and how it will decide whether or not you will be a successful affiliate marketer.
After all, you may have the information to help you succeed, but your chosen niche may be holding you back. Find out if that is the case.
So, just like with any other business venture, you must conduct some research to find out what will work for you.
You can start by asking yourself some questions. You can ask what to promote through ClickBank, MaxWeb, or A4D, for example.
Commission Hero Module #3 – Finding Your Ad Image
Robby Blanchard knows the importance of using images for his ads. While you may think that is obvious, think about the other affiliate marketers out there. Some of them prefer to go with videos, instead.
The Commission Hero creator has a point, though. Images do not take long to load. They can also grab people's attention in a split second, whereas you need to watch the video to see what it is talking about.
He advises finding a good designer at Fiverr. This advice makes sense because you want something professional.
Let a visual artist handle this task if you are not comfortable doing it yourself. It is also essential to have an original image that your site visitors have not yet seen anywhere else. Also, remember the importance of not plagiarizing other people's works.
Commission Hero Module #4 – Setting Up a Landing Page
If you want to be seen as a proper, professional affiliate marketer, you need to use a landing page. Your whole website should have been designed in such a way to reflect your niche.
This module talks about how you can set up your landing pages using PHP or ClickFunnels. What do you need to ensure before that?
You need to register for ClickFunnels, for one. Then, you should set up your domain, affiliate links, and landing page.
Commission Hero Module #5 – Setting Up Facebook Account
This module talks about how you can set up your Facebook Ads account. Some of you may have already fiddled with all that the social media network can offer, but it surely helps to have someone explain it simply. Blanchard also does not want you to miss any of the helpful features.
The Commission Hero creator will help you set up a business Facebook account and tweak the ads section. He will guide you on registering your business and even create your first pay-per-click (PPC) campaign. Blanchard does not forget about helping you identify and target your audience.
The thing about Blanchard is that he knows what he is doing. He has done it himself and is not shy about showing you a successful past Facebook ads campaign he owns.
Commission Hero Module #6 – Setting Up Facebook Pixels
Robby Blanchard does not stop there. He also helps you set up Facebook Pixel.
Meanwhile, Pixel enables you to capture sales. Thankfully, the Commission Hero creator shows you how to do this without making it too complicated.
Some of you may already be too familiar with the twists and turns of Facebook. So, if you have already done a paid advertising ad through the network, you may not be that impressed.
Still, it helps to have someone who can serve as a Facebook insider. After all, he went through the social media network successfully.
Commission Hero Module #7 – Tracking Your Campaign
The Commission Hero Program reminds you that setting up everything and letting them play it out will not be enough.
You need to track or monitor your clicks and sales. So, you will need to prepare a tracking spreadsheet. You must also know how to install tracking links.
Commission Hero Module #8 – Scaling
Commission Hero also provides you with a module that focuses on scaling. Scaling is as essential as tracking. It provides you with the ability to earn as much as $1000 daily.
When do you use scaling?
You use scaling when you have started earning money through your affiliate marketing efforts.
Because of your initial earnings, you may do some scaling. Commission Hero acknowledges the need to know how to do this by including the topic in a separate module.
Commission Hero Module #9 – Ninja Tactics
Of course, you want to go above and beyond. After all, affiliate marketing has been there for a long while. Several people have tried it and have been successful. Unfortunately, some people have not fared so well.
So, you may be interested in some ninja tactics, which refer to unique methods that work.
A bonus Commission Hero module focuses on providing you with advanced strategies that Blanchard had prepared explicitly for his product.
He clarifies the following topics in the module:
using an American Express Card
contacting other affiliates
generating Facebook issues
dealing with affiliate account issues
Blanchard's last module is not required reading. However, you may find the extra information helpful. He had added stuff that he had tested on his own affiliate campaigns.
You will learn how to make a landing page swipe file through ClickFunnels or PHP through the bonus material. It will deal with where you can find the best images to accompany your posts. It also teaches you how to have the right success mindset for affiliate marketing.
Join Limited Time Free Commission Hero Training
The Good Things About Commission Hero
Of course, we need to discuss things that make Commission Hero highly recommended.
1.) Affiliate Marketing Model That Works
Blanchard's affiliate marketing model has been tried and tested. He is not simply paying lip service. He knows what he is doing and has gone through the tricks that he is teaching his clients.
You will read several commission hero reviews that show how people appreciate how this model works.
2.) Robby Blanchard is the Real Deal
Because his affiliate marketing model works, you can conclude that Robby Blanchard is the real deal. He has the experience. He did not just prepare videos and write some tips but has actually lived what he is talking about.
If you want to follow a guru of some sort, you need to walk the talk. That is precisely what he had done.
3.) Real Student Testimonials
Sometimes, taking one review's word is not enough. So, you can scour the net for discussions, reviews, and testimonials.
Testimonials coming from people who have tried Commission Hero Pro may be the best way to go. You need to find out from these students' own words what they think about the program. You will find that many find the whole product worth the price and effort.
Join Limited Time Free Commission Hero Training
Not So Good Things About Commission Hero
As with any product, Commission Hero Pro is not perfect. You will find some aspects of it problematic. Some people may even skip the program because of these characteristics.
1.) Hidden Costs
The sales page of Commission Hero describes the expenses as being minimum to the tune of just $10-20.

Well, this is not the only cost you would be born with. If we look at the tools Robby recommends and needs to implement this system; the monthly fee would be –
2.) Affiliate Marketing is Not As Easy As Presented
Robby Blanchard knows what he is doing. That is a given. However, Commission Hero Pro is no miracle solution. His program's students realize that they still have to exert a lot of effort along the way.
The program requires you to invest time, money, and skills into applying it.
3.) A Bit Pricey for Newbies
$997 is a lot of money for people who want to get into affiliate marketing because they want to earn money in the first place.
Not everyone is willing to shell out that much money, especially during a pandemic. Even when you choose the installment plan, the $597 can only be paid in two payments that are 30 days apart. The total amount surpasses the one-time payment.
4.) No Free Trial or Money-Back Guarantee
Not only is the program expensive, but you are also going to go in slightly blind. You are going in not knowing whether you will like what you are getting into or not.
Yes, the Commission Hero Pro does not come with a free trial, and you don't get the typical 30 Days "No Question Asked" money-back guarantee.
As per this program's refund policy, you will have to prove that you have done your best to apply the methods and still did not earn their target amounts.
Personally, I find it reasonable, as I know from my experience that most unsuccessful marketers don't take action. This refund policy forces you to take action. I feel this policy works in your favor.
5.) Facebook Advertising is a Risky Business
Any type of business comes with risk. The same goes for Facebook advertising. So, you may succeed, but another person who also took the course may not. There are a lot of factors that can come into play.
6.) Doesn't Teach Alternative Traffic Methods
When you pay a premium fee for knowledge, you expect some extra stuff to help you get ahead of the rest.
Commission Hero Pro, unfortunately, does not teach you alternative traffic methods.
Is Commission Hero Legit Or Just Another Scam?
Although a little on the expensive side for new affiliate marketers, Commission Hero isn't a scam.
It is a legitimate program because you get what you paid for.
After paying, you can access a training program. Existing customer testimonials have also shown that some of its students are pleased with their results.
Commission Hero Pricing, Payment Plans, And Discount Offers
Again, the total price is $997 if you will be paying a one-time fee. It is the cheaper, discounted version.
If you opt to pay less at a time, you need to shell out $597 for two consecutive months. The total amount is going to be higher.
Being a premium course, they don't offer any kind of discount coupon.

FAQs
Does It Really Work?
Based on my personal experience and hundreds of students' reviews, I can say for sure, yes, the program works.
Are students of Commission Hero getting results?
Again, students are getting some positive results with Commission Hero Pro. Unfortunately, because of the unavailability of complete data, we do not know what percentage of the total number of students feel this way.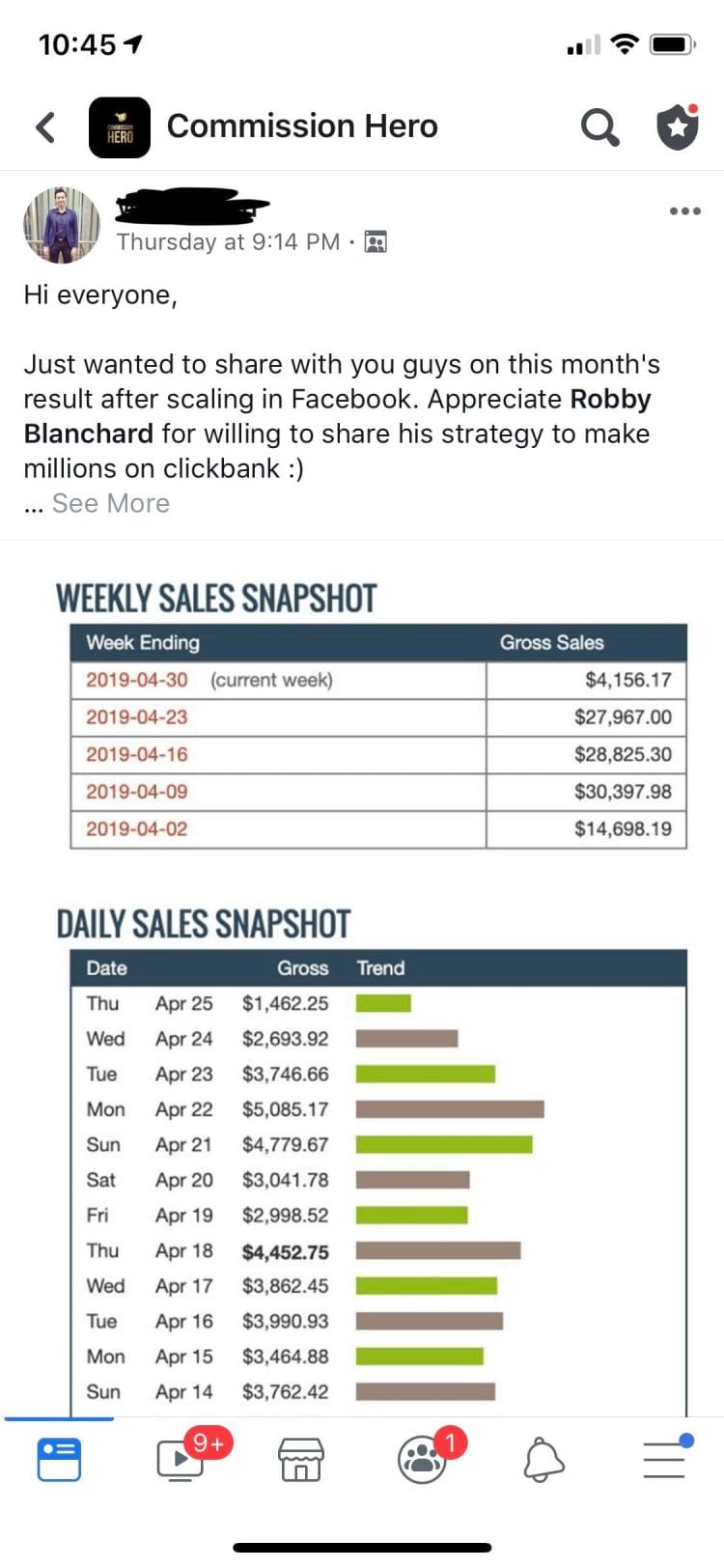 Who Should Join Commission Hero?
So, here is the thing. Despite being expensive, Commission Hero Pro is considered the best affiliate marketing training program.
If you are ready to shell out about $1000 to buy the course, it is suitable for you. You should also be able to give it 10 hours a week to make it work.
This program is also recommended to those who want to leave their 9-to-5 jobs one day.
Who Should Not Join Commission Hero?
Commission Hero is not for everyone. For one, you may not be ready if you are not willing to invest about $1000 or more in the program.
Then, if you think it is a miracle solution or a get-rich-quick scheme, you are wrong. You may have to go elsewhere if that is what you are aiming for.
Is Robby Blanchard's Commission Hero Worth The Money?
Commission Hero Pro can be worth the money. However, you must apply the tricks while also using your instinct and hard work.
It will not be easy. However, the money invested in the program can be compared to the money you invest in your academic education. You get what you paid for. However, you need to contribute to your own success.
What's their refund policy?
They rarely provide refunds unless there is ample proof that the client has done everything they could with the program and has failed.
So, it is vital to create documentation of everything you are doing with your purchased training files.
How to Join Commission Hero?
Joining is easy. You just have to pick one of the payment schemes. Pay the amount needed for the day to get your files, training access, and client support.
Commission Hero Course Alternatives
Before getting into any program, you should first find out what other alternatives are out there.
Commission Hero vs. Super Affiliate System
Commission Hero mainly works with Facebook and other social media. You earn money through how well your ads perform.
If you ask which program has the edge over another, I would say It's Commission Hero since they have created a tribe of successful students. At the same time, the Super affiliate system doesn't show that kind of success rate, and they lately had some scam reports.
Both affiliate programs, however, have extra or hidden expenses you need to be wary about.
Commission Hero vs. Savage Affiliates
Both Commission Hero Pro and Savage Affiliates have their own highlighted benefits, but which of the two would reign supreme?
Commission hero is focused on one method. So, students will not be confused about what strategy to use. Its focus has led to many successes. Its creator is an expert in what he does.
On the other hand, Savage Affiliates provide more content for the lower price of $197. It even offers more information on how to promote Clickbank products. You will also be given various methods to choose from. An expert teaches affiliate marketing with the use of YouTube ads and content creation. It also comes with a better refund policy.
But again, it doesn't show that kind of success rate in contrast with Commission Hero.
Commission Hero vs. Wealthy Affiliates
At this point, you are already familiar with what Commission Hero Pro can offer you. Now, how does it fare against Wealthy Affiliates?
Wealthy Affiliates, like Commission Hero, provides training and tools. It helps you create content that search engines can detect. It also does not claim to be a get-rich scheme. It is legitimate like Commission Hero. You will get what you pay for through various tools and training. Wealthy Affiliates can help you build an affiliate marketing business from the ground up.
So, where do you find the difference between the two? Well, Wealthy Affiliates is more affordable. In fact, it advertises itself as being one of the most affordable of its kind out there. It also provides you with a community and support to help you get going in your affiliate marketing adventure.
Commission Hero vs. Four Percent Group
Finally, let us take a look at a comparison between Commission Hero and Four Percent Group.
Four Percent Group's content is of high quality, coming from an expert. It puts it right there with Commission Hero.
However, with Four Percent, things can get frustrating as you need to find the actual technical instructions from another source. The affiliate marketing group gives you an overview, and then you need to scramble for the instructions elsewhere, such as through YouTube.
You can take that two ways. One, it can be frustrating. Two, the challenge can help you find solutions for yourself. However, you may expect everything to be in one place, considering that you are paying either $197 per month or a one-time lifetime fee of $1497. It can be rough.
Four Percent Group tries to make up for that by letting its users plug in their affiliation links to earn 100% of the commission earned.
The program may be expensive, but it gears you towards building a brand. However, some of you may lean more towards the slightly more affordable Commission Hero. You may also want to see everything you need in one place.
Commission Hero Review Summary
Let us start by declaring that Commission Hero Pro is legitimate. You pay through a secure website. Then, you get what you paid for. Anyway, you do have to pay consultants money to help you with your tasks in the real world.
A consultant may or may not provide you with files that you can inspect later on. You may not get an option to learn at your own pace. You are paying for the hours the consultant spends with you, providing his expertise.
With Commission Hero's affiliate program, you pay for the knowledge an expert is passing on to you. Because you may be a visual learner (or not), you are provided with videos that you can watch when you have the time. The course developer is aware that some of you may have 9 to 5 jobs to attend to. The course is not your life.
The cost is a little steep, especially since people gravitating towards the program may not have any affiliate marketing background. If you want to earn extra money to supplement your income, you may feel like backing off when you see the amount.
While the program does not offer an explicit money-back guarantee, you may document your use of the content and application on your affiliate marketing efforts. If things go south, you can attempt to have your money returned to you.
If you end up like one of the many satisfied program users, the amount may be worth it after all. But as with any offers on the Internet, it is best to tread with caution. Are you ready to engage in learning and application for ten hours a week? Do you have $1000 to spare? Then, you can give Commission Hero a try. People have tried it and have been happy to use it.